Welcome to
Schleswig-Holstein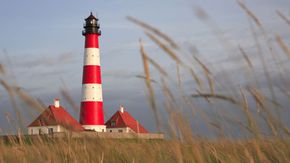 Westerhever Lighthouse © W. Diederich / grafikfoto
Schleswig-Holstein's position between two seas – the North Sea and the Baltic Sea – is unique in Germany and characterizes its people and their lifestyle. The land between the seas, as it's called, has preserved large stretches of its unspoiled nature – not least through consistent protection.
Schleswig-Holstein's countryside and its big sky have inspired poets and thinkers from time immemorial. For example, the author Günter Grass, winner of the Nobel Prize for Literature, has been living in Schleswig-Holstein, where Thomas and Heinrich Mann and Theodor Storm once worked and wrote.
Fine artists – like painter Emil Nolde and sculptor Ernst Barlach - have always been impressed by the colorful splendor of nature, the fascinating clouds, the raging storms and the sea itself.